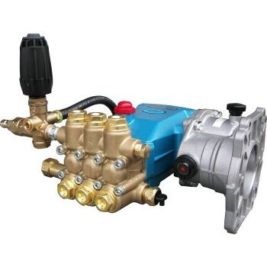 Pump Features
• Polished solid ceramic plungers last long and resist abrasion.
• Triplex plunger design providing low pulsation and quiet operation.
• Internally lubricated and cooled packings for extended life.
Gearbox Unit Features
• No pulley selection or adjustment for quick, easy gas engine mounting.
• Totally sealed housing providing independent gearbox lubrication for maximum service life.
• Hardened steel helical design gears for smooth, quiet operation.
Upgraded Heavy Duty Control Box. The newcontrol box will include a Heavy Duty Lighted Rocker Switch, Plenty ofroom for the Optional Adjustable Thermostat, as pictured. The AllStainless Steel construction provides secure mounting and Durabilityagainst rough environments.
This Water Cannon Pressure Washer includes an Upgraded External Recirculation Plumbing Feature that cools the water while the Trigger Gun is closed. The extended service life Triplex Ceramic Plunger Pumpholds up to commercial and professional daily use. Additionally this model includes an overheat safety valve that will open and closeautomatically to allow the recalculating higher temperature water to be released and allow cool water to replace it, helping to protect the wearparts. There is an optional Adjustable Pressure & EZ Start Feature available SKU 11234 available by calling 1-800-333-9274 and speakingwith one of our industry trained sales team.
Highlights
• Powerful 4.0 GPM @ 3500 PSI Pressure Washers
• 13 HP GX390 Honda engine:
Click here for complete details
• Comes with a reliable 5 CP Cat pump for outstanding performance
• 118 Degree Temperature Rise - Maximum 210 Degree F
Standard Features
• Rugged powder coated steel roll cage frame with lifting hook and pneumatic tires
• Super efficient schedule 80 coil with one-piece molded insulation combustion chamber
• Stainless steel coil wrap
• 8 gallon poly diesel fuel tank with fuel filter
• Commercial/Industrial grade engines
• Reliable Beckett burners
• High limit over temp protection
• Safety pressure relief valve
• Thermo-sensor (prevents over heating in bypass mode)
Standard Accessories
• Maxi-Flo 20% chemical injector assembly w/quick connects
• 4 color-coded QC spray nozzles
• 1 color-coded QC chemical nozzle
A Gear Driven Pump is essentially a solid shaft pump with a direct drive gear reduction unit attached. With a gear driven pump, the original pump crankcase is mounted to a separate crankcase for the reduction gears. The two units are mounted together but individually sealed with the gear box using a thicker oil like gear lube whereas the pump uses the standard 30 weight, non-detergent oil. The pump and gearbox are then attached to the engine directly via the hollow shaft on the gear box.
The Pros and Cons:
The pump and gearbox are self contained with no belts and pulleys. No belt guard taking up space. The gear ratio being approximately 2.2:1 allows for the pump to run at slower speeds with higher output volumes than most high speed direct drive pumps. The gear box driven machine can run for longer times with higher efficiency. The initial cost is more for the gear box type unit versus a belt drive unit but makes up for it in less down time that you might have with belts and pulleys.All units are completely factory assembled, tested in the USA, and delivered ready to operate.
Download Operator's Manual Here
View Honda Engine's Limited Warranty
Apply for a Water Cannon NET 30DAY Account HERE!

Honda GX Engines
• We begin with a 3 year engine warranty
• Including highly desirable and intelligent features:
• OHV - Over Head Valve Design First Pull Starting
• Automatic Decompression
• Low Tone muffler with heat shield
• Adjustable throttle
• CARB - EPA3 - Can be sold in all 50 States
• Low Vibration and great fuel economy
• Fuel tanks have an EPA approved fuel cap
• Downdraft style carburetor - no priming
• Nationwide Service Centers
Hot Water Pressure Washer - Honda GX 390 Electric/Recoil Start 12 Volt Self Contained - Portable Four Wheel Push Bar Frame - Beckett 12 Volt D.C. Oil Fired Burner - 118 Degree Temperature Rise - 5CP CAT Series Gear Drive Triplex Plunger Pump - 4GPM - 4200PSI - 3+5+5 Year Manufacturer's Warranty (Coil is Prorated) - 50' Hose, Trigger Gun, Wand, Down Stream Chemical Injector, & QC Nozzles - Assembled in USA
Warning California Proposition 65
Detectable amount of chemicals known to the State of California to cause cancer, birth defects or other reproductive harm may be found in pressure washing equipment, accessories and exhaust. For More Information Visit www.p65warnings.ca.gov