Since 1981 watercannon.com, has been a powerful industry supplier, providing high quality pressure washers, parts, pumps & accessories for the Cleaning, construction & plumbing Industries.
We strive to provide you with relevant customer service, quantity discounts, factory assembled, equipment professionally tested and packed.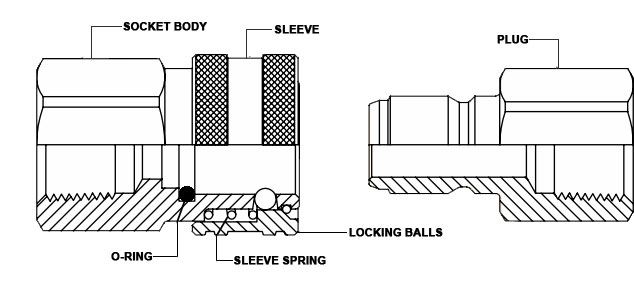 Water Cannon carries quick connects composed of stainless steel, brass and zinc, among other durable materials. Quick connects are available in various sizes and quantities, and they are used to attach or remove accessories from your pressure washer. If you need help finding the correct quick connects, please contact us. As problem solvers with real trade experience, our technicians are among the best in the industry. In fact, our technical staff has legitimately found needles in haystacks by having customers e-mail us pictures of pieces or parts.
Quick connect sockets are precision machined and provide smooth action and reliable service. They resist plug deformation when pressure spikes occur. The flow thru design provides unrestricted bore for free flow and minimum pressure loss. The push and snap-lock coupler feature a replaceable o-ring seal and can be upgraded to viton to withstand 300
°
F hot water and aggressive chemicals. The brushed brass socket features a smooth action collar with easy to grip burrelled rings rated to 210
°
F.
These plugs are plated steel, extreme duty and hardened to provide reliable service that resists plug deformation. A special allow withstands pressure spikes even from hydro pulse jetter systems. Corrosion resistant plating has a rating up to 5000 PSI. For aggressive chemicals the stainless steel plugs are interchangeable with most major brands of flow through quick connects. Stronger materials resist cracks even when assembled with air impact tools.
Crack resistant plugs are precision machined and provide smooth action reliable service that resists plug deformation when pressure spikes occur.