As one of the businesses on the list of Essential Service, we continue to stock, fulfill and deliver Cleaning and Sanitizing machines and accessories.
Shop with Confidence to Stock Up on your Cleaning Supplies, Our Inventory is Full of Essential Items to Sanitize, Clean & Disinfect.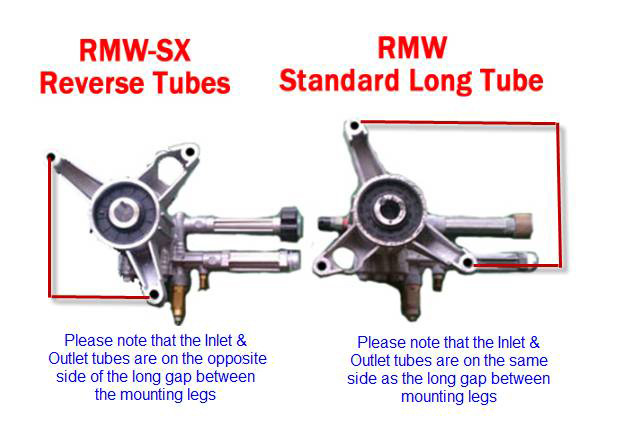 New! How to replace a pump. Click Here
How can you tell if you need a vertical shaft pump? If the engine is on top of the pump it is considered a vertical shaft pressure cleaner. The vertical shaft pressure pumps are popular for homeowner price point models and are usually sold through discount chains and big box stores. Although Water Cannon will not sell vertical style homeowner grade pressure cleaners we do offer a high quality pump replacement from Annovi Reverberi.

Annovi Reverberi RMW Economy Axial Radial Pumps 3400RPM D Version 7/8" w/Vertical Gas Engine Flange

Annovi Reverberi pumps are a combination of exceptional degree of technology and innovation. They deliver quality and reliability worthy of a leading brand on the market. The wide range of AR pumps includes many models which vary in terms of pressure, delivery, power and technical characteristics, to satisfy widely different market demands.

See photo below for correct RMW water tube description, and compare it to your pump.
¢The RMW-SX has the reverse inlet and discharge tubes that come out the back of the machine as shown in the pump pictured on the left.

¢The RMW pump, shown on the right, has the tubes that come out the front of the machine.



Sometimes the mounting bolts that hold the engine to the frame are used to mount the pump as well.
• Replaces AR RMW2G20D, RMW 2G20D
• Fits most homeowner type vertical pressure washers with front mounted pump
• Vertical mount with gas flange 3-6 HP
• Maximum pump speed: 3,400 RPM
• Shaft diameter: 7/8" hollow
• Engine shafts longer than 2" will require spacers or washers
• Maximum horsepower requirements: 4.5 GHP
• Inlet port: 3/4" FGH (garden hose)
• Outlet port: 22 mm (twist connect)
• Built In unloader and chemical injector
• Brass Manifold with Aluminum Valve Caps
• Stainless steel plungers
• Pump comes with oil
• See optional items below
• Weight: 5.1 lb.
RMW Series Pumps Data
Helpful tips to keep your pressure washer pump operating at peak performance
Warning California Proposition 65
Detectable amount of chemicals known to the State of California to cause cancer, birth defects or other reproductive harm may be found in pressure washing equipment, accessories and exhaust. For More Information Visit www.p65warnings.ca.gov